Restrict, Focus, Simplify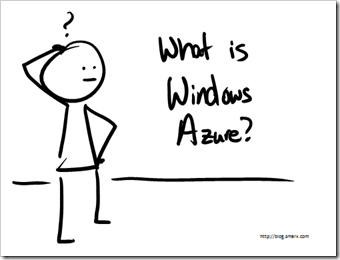 Today I drew and narrated a video called "What is Windows Azure?"
The restrictions of the medium (hand-drawn at the same time as the voiceover) really helped me to focus on really simple visual metaphors.
Below is the embedded video.  I'm really disappointed that I couldn't find a way to control the frame that shows up as the preview.  (Is that a sheep labeled "fat"?)  In any case, I hope you enjoy the video.  Details about how I made it are below.
How I Made It
The Technology
The screen capture was done with Community Clips, and believe it or not, I recorded the entire video in PowerPoint!  I had first played a bit with ArtRage and Journal, but PowerPoint proved to be just as good of an art tool for my purposes.  In addition it had one nice bonus: I made each drawing on a new slide, so now, I have a slide deck that captures the drawings I made (in ink).  I plan to turn that deck into an offline version of the video (shrink and maybe edit the graphics, and add text in lieu of the voiceover narration).
The Methodology
I've never been much of an artist, so it took me quite a bit of work to figure out how to draw some of the more complex images in the video.  By far the most complicated image (in terms of realism) was the developer sitting at the computer, and the most difficult feeling to capture was the guy trying to hold up the box of concerns.
I did the voiceover in real time while drawing the pictures.  This was partially because I don't really know how to edit videos and partially because I wanted to make sure the timing was right.  There was also something cool about knowing I could do this live in front of an audience (maybe I will some day!) or at a whiteboard for a customer.
Overall, I'd say I spent about two hours earlier in the week practicing various drawings and five hours today recording and publishing the video.  I hope the time was well spent.  Let me know what you think of the video!
Some Inspiration
If you liked this video, I'd encourage you to take a look at the work of Common Craft as well as "The Way of the Whiteboard," a MIX '09 presentation by Dan Roam, author of "The Back of the Napkin."