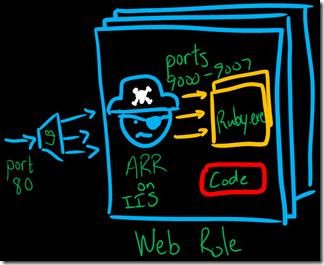 I gave a talk at MIX11 today called "Node.js, Ruby, and Python in Windows Azure: A Look at What's Possible." I have more to blog about this, but I wanted to put out a quick blog post with links to the slides and some samples I showed.
My "slides" (seems every conference I reinvent the presentation wheel) are here: http://cdn.blog.smarx.com/mixslides/index.html.
A few of the samples I showed are now on my GitHub page, including:
Those are all the actual Git repositories I'm using to host those apps. If I do a "git push" to smarxblog, it shows up right here on the blog within a few seconds. Kind of a cool workflow.
None of those are easily run in Windows Azure without the "smarx role" (as I called it today) that I haven't been able to ship yet. I had hoped to ship that code today, but I'm still working through some logistics. Expect that code to show up on Codeplex or MSDN Code Samples Gallery within the next week.
I hope the slides and samples are helpful! Thank you so much to those who attended the talk today. It was a very fun talk to give, in large part because the audience was engaged.
Off to put some finishing touches on the slides for tomorrow's talk! Sneak peak: it will look a lot like http://things.smarx.com, which was making the rounds on Twitter today.